Description
Sounds
The MDL-1 blends a robust acoustic sample library with a lifetime of Korg's electronics and beat machines. On the acoustic side of the spectrum, you'll find a brand-new collection of deep-sampled Pearl kits, masterfully captured in Nashville, TN. Kits are organized by modern and vintage types, along with some familiar genre-specific and historic patches to call up instant inspiration. On the electronic side, you've got decades of sounds —drum machines, keyboard instruments, and more — ripped straight from the Korg vault. A selection of orchestral, concert, and world percussion sounds complete the library.
Layout
What helps set the MDL-1 apart from other modules is its streamlined interface. All major functions — kit sounds, click track, BPP, headphone and master levels, and more — can be called up via dedicated buttons and knobs on the front panel. Customization is accessible via a series of soft buttons.
Ambience slider
A feature we're really excited about in the MDL-1 is its dedicated Ambience slider. This allows you to raise and lower, on the fly, the level of the room mics captured during the recording session. This is a feature you'll find in many drum VIs, but one we've scarcely seen as powerful and accessible as here in the e/Merge.
Importable sounds and settings
Got a drum library you trust? Looking to sample your own acoustic kits? The e/Merge allows you to load in your own drum samples as WAV files via USB drive. You can also flash in settings this way, allowing you to save and recall complete sets by band, session, or style.
12 hours' record time
Capture grooves and jot down song ideas with the MDL-1's internal 16GB memory — capable of 12 hours of record time.
Flexible I/O
Live musicians and session players both will appreciate the versatile input and output options here in the MDL-1. Eight dedicated 1/4″ outs for drums and cymbals give the sound engineer full control of your balance into a PA or recording medium. For ease of use, pre-mixed mono or stereo 1/4″ outs are also included for feeding a drum amp or smaller mixer. Audio out via USB makes the MDL-1 a capable interface for multitrack recording. And MIDI out via USB and 5-pin MIDI gives you full control of your virtual instruments. An 1/8″ aux input facilitates jamming and song learning.
Room to grow
The e/Merge's eight drum and cymbal pads connect to the MDL-1 via a DB-25 breakout cable. Additional pads — splashes, percussion pads, and extra toms — connect via three 1/4″ trigger inputs on the side of the module.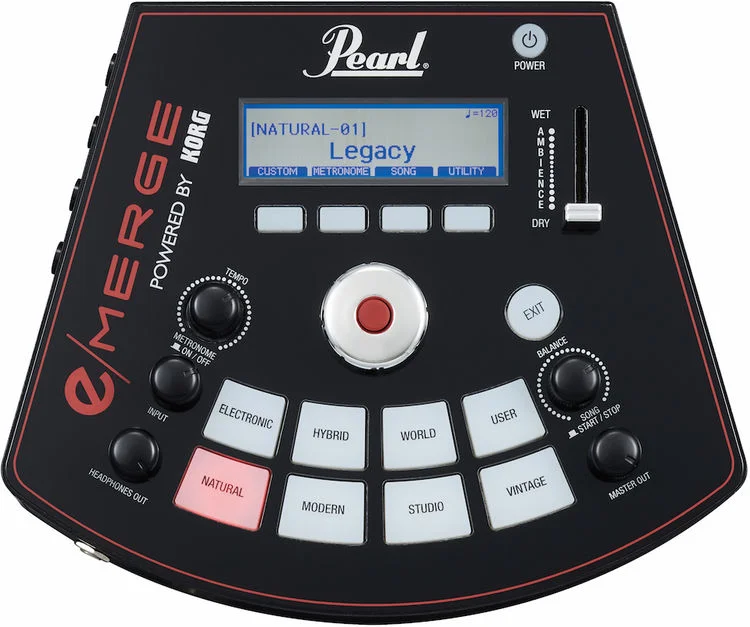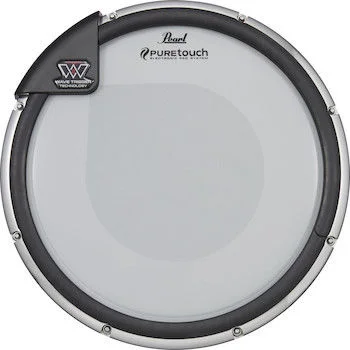 Pads by Pearl and Korg
14″ snare
Wave Trigger Technology, adapted from the Korg Wavedrum, gives the full-sized 14″ e/Merge snare a lightning-fast response and untouched realism. This system is so sensitive that Pearl says even stick choice impacts its sound. From center to edge, the e/Merge snare gives back every ounce of emotion and performance you pour into it. Two separate rim triggers avail authentic rimshots and cross-sticks without changing the way you play.
18″ bass drum
For looks and performance, the e/Merge's 18″ bass drum more than does the trick. Its size easily accommodates double pedals. And its dual PUREtouch heads offer the complex response — the compression and rarefaction of air — that many acoustic drummers rely on for timing, speed, and power. This is to say nothing of the 18's cosmetic appeal, which further helps this kit look and feel like an acoustic drum set.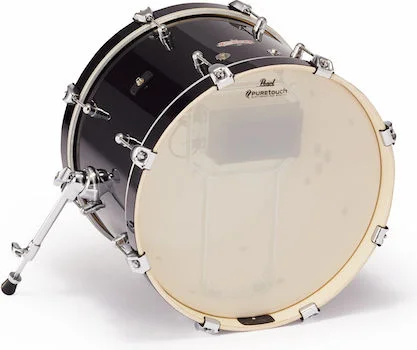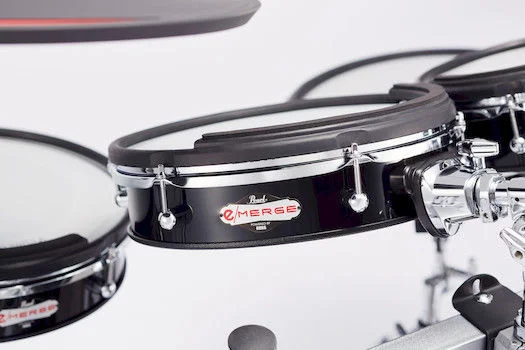 10″, 12″, and 14″ toms
Fusion-sized toms give the e/Merge another dash of acoustic realism. 6-ply PUREtouch pads crown each shell. Elevated rim triggers unlock realistic rim effects, and can be routed to start loops or trigger special FX and auxiliary percussion.
14″ hi-hat, 15″ crash, 18″ ride
Pearl and Korg's PUREtouch technology extends to its life-sized cymbal trio. Each is comprised of a multi-layer interior with a soft rubber exterior for a lifelike weight, sway, and response, minus the volume. Choking feels great on the PUREtouch cymbals: the internal layers are allowed to ring out to emulate the sympathetic vibrations that linger after you choke a real metal cymbal.
14″ hi-hat — dual zones; responsive pump, splash, and open-close action thanks to its Capacitive Motion Sensor
15″ crash — dual zones; dynamic range of sounds
18″ ride — three zones; large size and bell bring patterns and timekeeping to life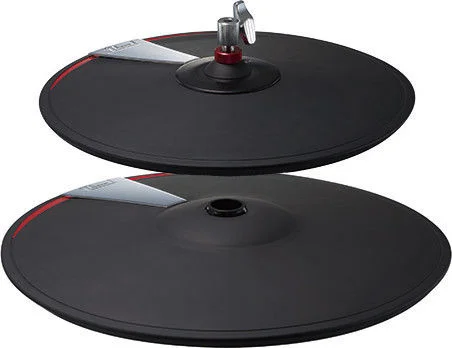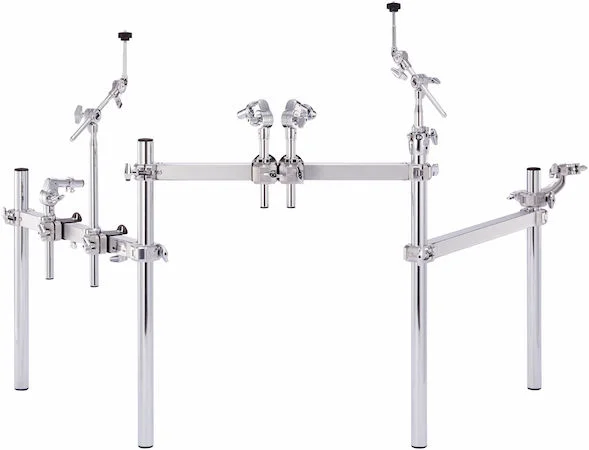 Pearl Hardware
Icon e-Rack
It's refreshing to a see a rack system as robust as the Icon — Pearl's premier drum rack system — on an electronic kit. Its distinctive square tubing and chrome-plated steel construction give it a timeless look and the durability that today's drummers demand at home and on the road.
Uni-Lock tom and cymbal holders
Pearl's name in the drum hardware industry is inextricable. The Icon e-Rack comes outfitted with three continuously adjustable Uni-Lock tom arms for exact positioning, along with durable dual side Uni-Lock cymbal booms for the crash and ride. Just add the hi-hat stand, throne, and kick pedal/s of your choice, and you're up and running with the Pearl e/Merge electronic drum kit from Sweetwater.
Pearl e/Merge Hybrid 5-piece Electronic Drum Kit Features:
A collaboration between Pearl Drums and Korg
Pearl poplar shells and hardware are attractive, robust, and durable
Acoustic-like look and response
Streamlined MDL-1 module packs 35 preset drum kits and 700 sounds
Deeply sampled modern and vintage Pearl drum kits
Decades of electronic samples from the Korg vault
Importable WAV files and settings via USB drive
16GB internal memory boasts 12 hours' record time
Versatile analog and digital outputs for recording and live sound reproduction
Choose from 36 FX: compression, tube saturation, hall reverb, radio filtering, auto wah, and more
6-layer PUREtouch drum pads are fast and accurate, from center to edge
Wave Trigger Technology imparts unparalleled snare realism
Multi-layer PUREtouch cymbal pads have realistic weight, sway, and choke mechanics
Drums: 10/12/14″ toms, 14″ snare, 18″ kick pad
Cymbals: 14″ hi-hat, 15″ crash, 18″ ride
DB-25 breakout cable + 3 additional 1/4″ trigger inputs
Icon e-Rack with Pearl tom and cymbal mounts adds significant value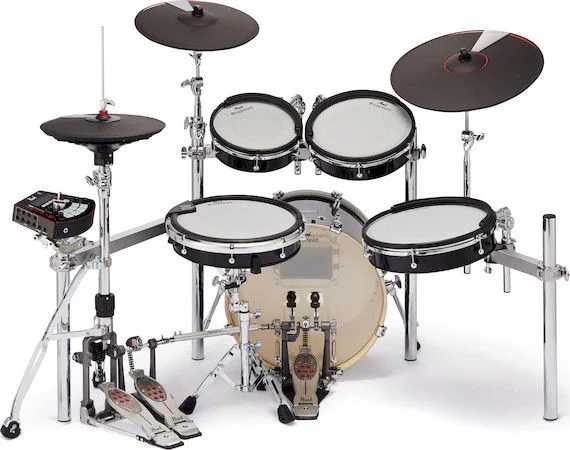 Pearl e/Merge Electronic Drums with 18" PUREtouch Bass Drum Pad
SKU: EM-53HB
$5,999.99
Bass Pedals and Hi Hat stand not included.